Los Angeles Police Department Contact List
Maria Gray
Senior Lead Officer
West Los Angeles Community Police Station
Office: 310-444-0744
Email: 30469@lapd.lacity.org
Web: www.lapdonline.org
Emergency: 911
Non-Emergency Dispatch:
1-877-ASK-LAPD (1-877-275-5273)
LAPD WLA Station Desk: 310-444-0701
LAPD WLA Detective Desk: 310-444-1580
LAPD Hotline:
1-877-LAPD-247 (1-877-527-3247)
Crime Stoppers:
1-800-222-TIPS (1-800-222-8477)
How Crime Stoppers works…
People with knowledge about crimes that have occurred can call a hotline, text, or log into the Crime Stoppers website, and provide crime tip information. The tipster's identity is always encrypted and a private code is assigned to the tipster. If the information leads to an arrest, the tipster is eligible to receive a reward up to $1,000.
Call 800-222-TIPS (8477) or visit the website at
www.lacrimestoppers.org for more information or to submit a tip.
Los Angeles Fire Department
Fire Station 19
12229 West Sunset Boulevard
Los Angeles, CA 90049
Report all emergencies to 9-1-1
Business Tel: 310-575-8519
http://www.lafd.org/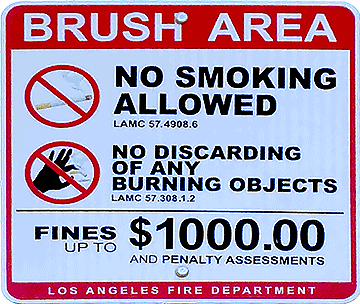 Anywhere outside your home including even in your own yard in Brentwood Hills property is in the Very High Fire Hazard Severity Zone!
$1000.00 fine for smoking in Brentwood Hills outside your home.
Gas Leaf blowers are illegal and subject to fines.
Suspicious Activity Reporting (I-Watch):
1-877-A-THREAT (1-877-284-7328)
I-WATCH ONLINE:  www.iwatchla.org
LADOT/Parking Enforcement: 213-485-4184
Free Dispute Resolution Program: www.mediate@atty.lacity.org
To receive Crime Alerts / Info: www.crimemapping.com
All Other City Departments: 311 www.lacity.org