California State has approved SB9 and SB10 – here is some back history as we continue to work to protect our neighborhood from wildfires exposure.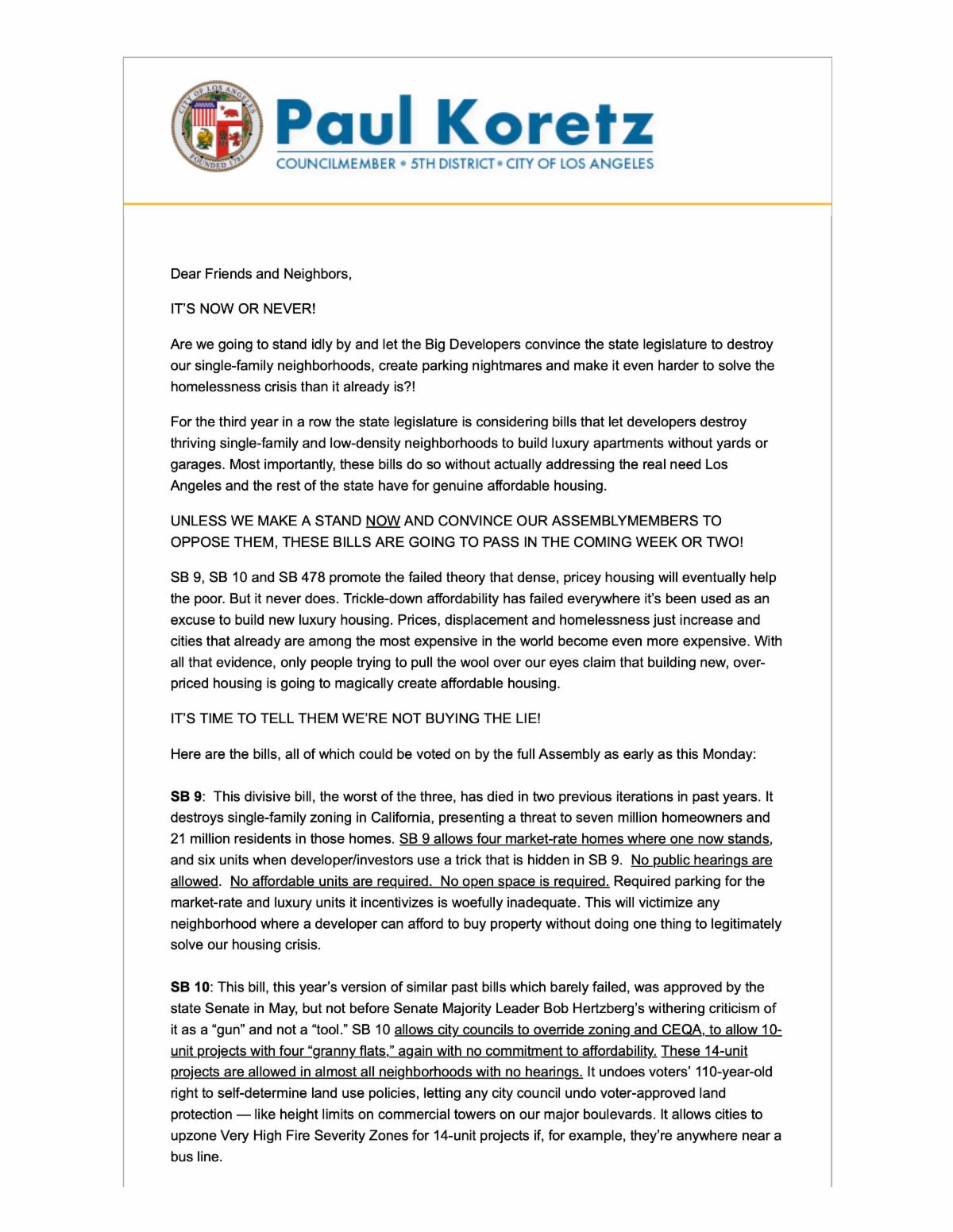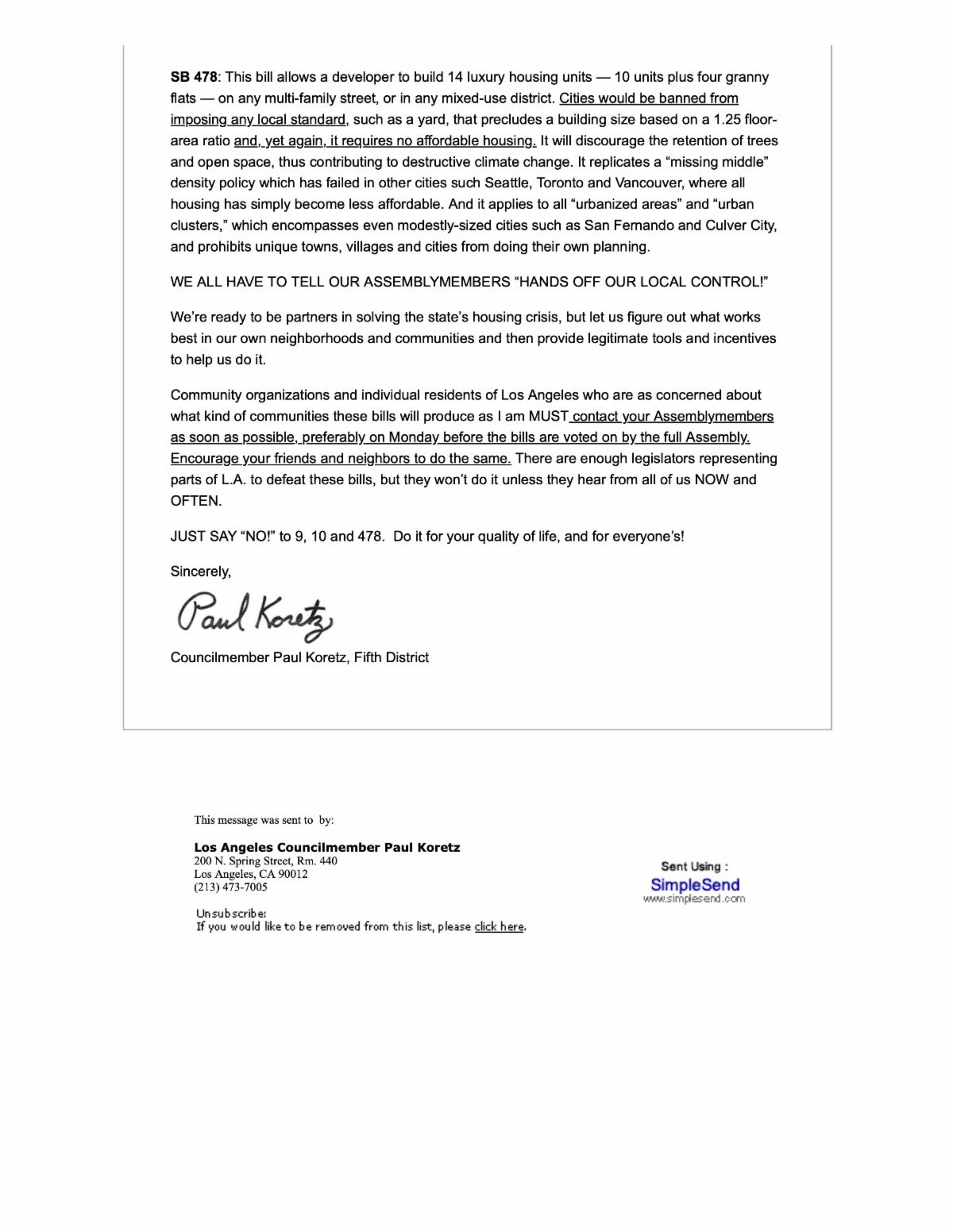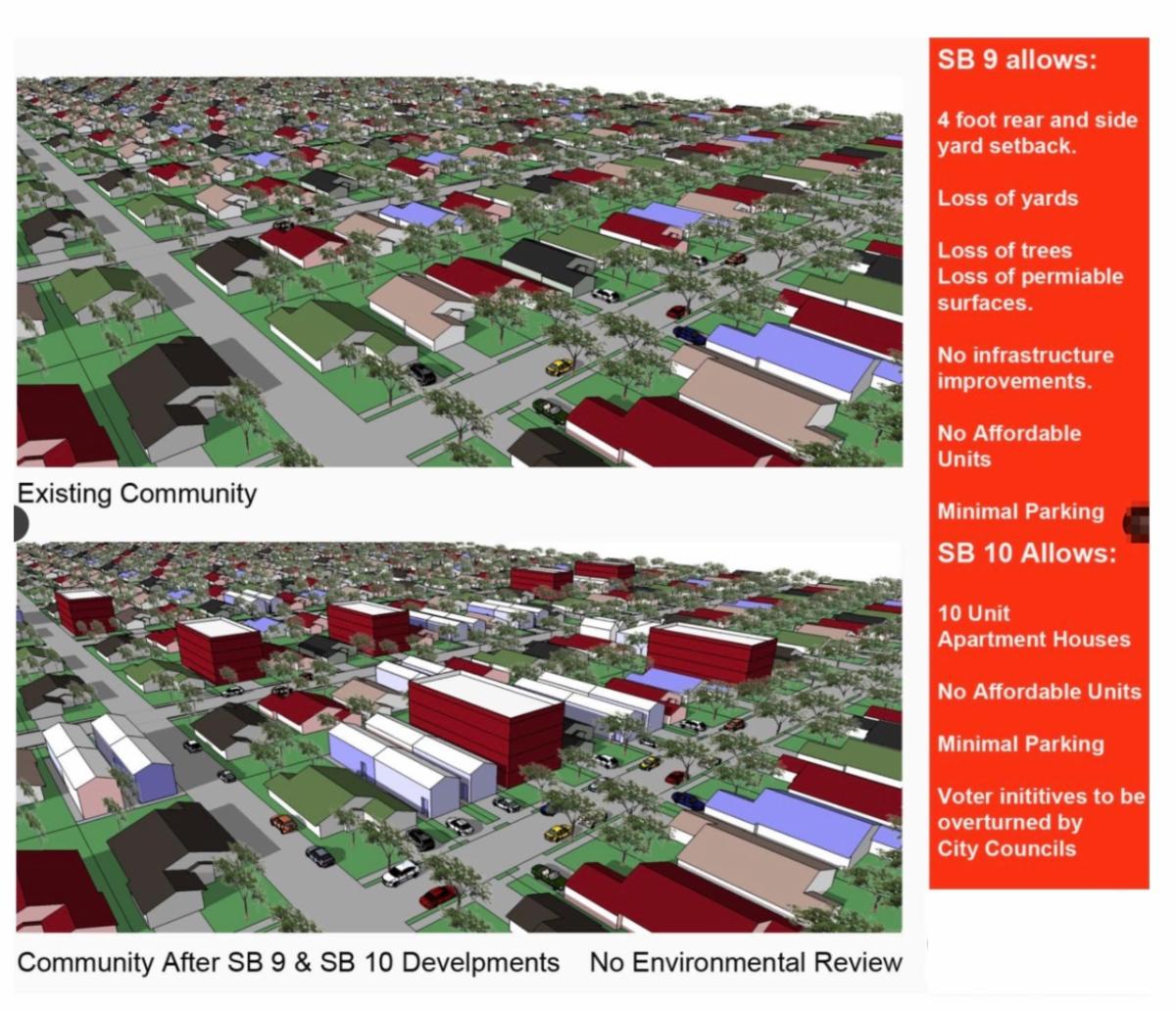 UPDATE ON SB 9, SB 10 and SB478
Your Email can be as simple as Vote NO on SB9, SB10 and SB478.
If you prefer to write a letter talking points are listed below. Short and to the point is best. Send your comments in asap.
The following are talking points you may want to use. Feel free to use any or all of the points listed below. Or, better yet, write in your own voice.
1.) SB 9 requires No upgrade to infrastructure and No CEQA review.
2.) The bill does not mandate affordable housing, does not require infrastructure improvements, public input or environmental review.
3.) There are hundreds of miles of underutilized commercial corridors that cities could use to add affordable housing. Cities know best where to add housing. Using our commercial corridors can greatly improve the vitality of our cities. These areas must be addressed first.
4.) This bill will create more market rate housing and cause displacement and gentrification in our moderate and lower income communities.
5.) Use public lands that are now underutilized for commercial multifamily projects. Build affordable housing on public commercially zoned properties.
SB10…
6) SB10 allows 10 units ( plus 2 ADUs & 2 jr ADUs) in single family neighborhoods
7) no parking criteria
8) no high fire restrictions if developer mitigates for fire risk ( building material, landscaping)
9) 2/3 vote of local legislative body can overturn voter initiative and any council initiatives. 
10) 10 units allowed in any area considered transit rich or an urban infill site (Yes, Brentwood, the Palisades are urban infill sites – that's all of us) 
********
For those of you in need of background information on these bills the following is a quick summary:
Information below about each bill is provided by Livable California, a nonpartisan statewide coalition working to stop these bills.
SB 9, by Toni Atkins and Scott Wiener, crushes single-family zoning in California, a threat to 7 million homeowners at all income levels. Wiener has called yards and single-family homes "immoral." SB 9 allows 4 market-rate homes where 1 home now stands or up to 6 units, if developers use an obscure "two-step" allowed by the bill. SB 9 requires NO affordable units. The bill opens all single-family neighborhoods to up-zoning. The bill mandates no additional parking for these units and NO funds will be allocated to the infrastructure improvements necessary to accommodate the excess load.
SB 10 by Scott Wiener will allow 10 unit buildings everywhere. Specifically, SB 10 allows any city council to overturn voter-approved ballot measures that protect open space, shorelines and other lands — killing a 108-year-old California voter right. SB 10 allows any city council to rezone parcels to allow 10-unit luxury apartments, overriding all zoning including single-family and commercial, inviting the demolition and gentrification of older, diverse, multi-family and single-family areas. The bill requires NO affordable units. SB 10 does not allocate any funding to make the infrastructure (utilities, schools, the power grid, fire protection, police protection) enhancements necessary to accommodate the extra load created by this densification
Again, Senate housing bills SB 9, SB 10 and SB 478 would eliminate local zoning control. These bills are moving forward act now.